Microsoft Fabric: Insights and Considerations from Our Customers
It has been almost four months since Microsoft Fabric entered preview at the end of May. Conversations with our customers have shown a significant level of interest and raised expectations surrounding this offering. Let us explore the reasons behind this interest based on our discussions with customers and address essential considerations for those thinking about adopting it.
Solving Traditional Problems
Interest in Microsoft Fabric primarily arises from its ability to tackle familiar challenges in cloud infrastructure management. Fabric simplifies complex cloud data infrastructures, previously composed of multiple services and platforms, into a unified SaaS service. This consolidation also extends to pricing, offering a more straightforward and clear cost structure. We will go into the pricing model in more detail shortly.
Data Science and Machine Learning Capabilities
Many of our customers are intrigued by Fabric's built-in data science capabilities. Some have already advanced analytics solutions in their current environment and are eager to explore what Fabric could add to their toolkit. Others have focused on traditional business intelligence but are now considering taking their data-driven business further. Microsoft Fabric's Synapse Data Science integration brings these capabilities to the forefront, and customers recognize the value of having these tools as part of the Fabric package.
Navigating Concerns
While the interest in Microsoft Fabric is apparent, it is not without its share of questions and concerns. One of the foremost considerations is the maturity level of the product. Given its brief time in the preview phase and the absence of an official release date, customers understandably question its readiness for production use. Moreover, there are still some rough edges in the product that need to be addressed before the official release. Fortunately, familiar tools like Data Factory, Power BI, and Synapse Tools retain their user experience within Fabric, eliminating the need to learn their usage from scratch.
Pricing and Capacity Management
There are few licensing options in the Fabric Preview, affecting Power BI and sharing capabilities, but in the base is a time-based billing (per second with a minimum of one minute) for provisioned compute – Fabric capacity. Pricing varies by region and capacity size.
Currently, only a pay-as-you-go model is available, but a reserved capacity pricing model is in the works. Additionally, OneLake storage is billed at a pay-as-you-go rate. As the costs are generated per used time when the capacity is on, for efficient cost management it is important to close the capacity when it is not needed either manually, or through automation. If Fabric eventually offers internal auto-pause functionality for capacity, this concern will be alleviated. In the meantime, at Evitec, we have developed an automated solution to pause capacity when not in use.
Let us get back to the question of having enough capacity – computing power – for your organization. In the simplest scenario, the entire organization can use a single capacity for all their needs in Fabric. When you start using Fabric, it is a good idea to begin with the smallest capacity and increase it as necessary. As your use of Fabric grows and your organization's needs become more diverse, you might need to scale up the capacity.
Now, it is important to understand another fundamental term in Microsoft Fabric: workspaces. Workspaces function as containers for Fabric items and can be created for example based on different business domains – this decision is up to your organization. Each workspace is associated with a capacity, and multiple workspaces can share a single capacity. However, as your usage and use-cases become more varied, your organization might want to have multiple capacities of different sizes available for different purposes. In other words, you can have different levels of computing power at your disposal.
Changing the capacity that a workspace uses is a straightforward process. Based on the increased need for capacity within a specific workspace, such as heavy calculations, you can temporarily or permanently scale up the capacity of that workspace. The following illustration demonstrates how your organization's Fabric capacity and workspaces might evolve as your experience with Fabric grows.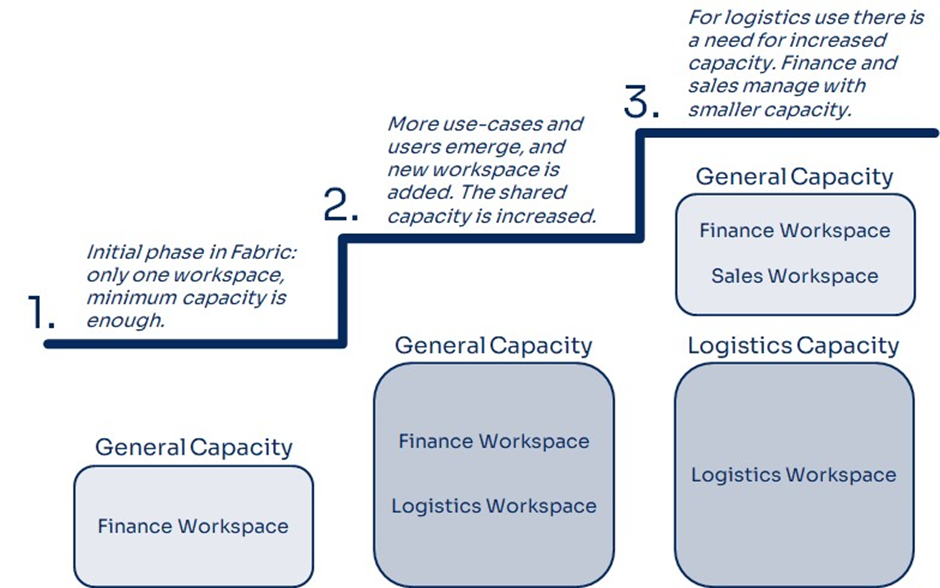 Security and Region Availability
Security is paramount in data solutions, and many companies have strict policies about data storage locations. Currently, Fabric Preview is not available in all regions. For example, as of writing this blog, the closest regions to Finland offering Fabric Preview are Western Europe and Eastern Norway. We hope that region availability will expand when Microsoft releases the official version. However, if a company policy dictates a specific region not currently supporting Fabric Preview, it may raise concerns about considering Fabric as an option.
Migration Strategy Dependant on Current Data Environments
Customer situations regarding their current data solutions vary greatly. Some rely solely on Excel-based reporting, while others maintain on-premises data warehouses, and some have extensive experience with cloud-based data solutions. These varying starting points influence their needs and questions concerning Fabric.
For those migrating from on-premises environments to the cloud, Microsoft Fabric provides a straightforward option, albeit requiring a clean slate approach. In contrast, businesses with existing cloud environments seek to understand how Fabric complements their current stack and its potential for hybrid solutions. The starting point of each customer significantly influences the migration effort required. Due to Fabric's one-copy data approach, development should be faster compared to previous cloud migrations.
Conclusion
Microsoft Fabric has garnered significant interest and raised expectations among our customers. Its ability to simplify cloud infrastructure management, offer powerful data science capabilities, and address traditional challenges is compelling. However, it is essential to address concerns around product maturity, pricing, capacity management, security, and region availability before making a decision.
We at Evitec are excited about the potential that Microsoft Fabric brings to the world of data and analytics and look forward to its continued evolution.