DevOps (automatisoidut IT-palvelut) tarjoaa monia hyötyjä järjestelmäprojekteissa, mutta kiteyttäen se varmistaa, että uusia toiminnallisuuksia saadaan tuotantoon nopeasti niin kehitys- kuin ylläpitovaiheessa. Malli säästää ennen kaikkea liiketoiminnan aikaa. Keskustelimme asiantuntijoidemme, Janne Takalan ja Jussi Kauhasen, kanssa DevOpsin hyödyistä.
Ketterästi kehittäen
– DevOpsin tärkein hyöty on ketteryys ja nopeus, jota se tarjoaa. Siinä ei ole perinteistä byrokratiaa, jossa kehittäjät kehittävät toiminnallisuuksia, minkä jälkeen ne menevät jonkin putken kautta jollekulle, joka varmistaa laadun. Mallissa samat henkilöt kehittävät ja asentavat toiminnallisuuksia, ja parhaimmillaan asiat toimivat nappia painamalla ja niihin voidaan reagoida nopeasti, kertoo Jussi.
Asiakkaan näkökulmasta DevOps mahdollistaa uusien toiminnallisuuksien tehokkaan tuomisen testaukseen tai ylläpitovaiheessa tuotantoon.
– Tuotantoon voidaan päivittää jatkuvasti virheenkorjauksia tai tuoda uusia toiminnallisuuksia eikä siinä mene kuukausia tai pahimmissa tapauksissa useita vuosia. Kehitysprojektissa asiakkaalle saadaan ensimmäinen demo julkaistua jo muutamassa viikossa, jatkaa Janne.
Pipeline pilvessä: enemmän automatisaatiota, vähemmän virheitä
Pilvi mahdollistaa ympäristöjen automaattisen perustamisen. Esimerkiksi uusi testiympäristö saadaan käyttöön minuuteissa ilman fyysisiä asennuksia. Eteneminen on flow-tyyppistä, julkaisuja tehdään jatkuvasti automatisoituna. Kun päivitykset tuotantoon tehdään automaattisesti, minimoidaan samalla virheet.
– Laatu voidaan varmistaa monin keinoin, mutta se myös maksaa. Automaattitestauksen avulla hoidamme asioita, jotka olisivat muuten testaajan työlistalla. Tämä tuo myös työhön mielekkyyttä, kun samoja regressiotestejä ei tehdä käsin uudelleen ja uudelleen, sanoo Jussi.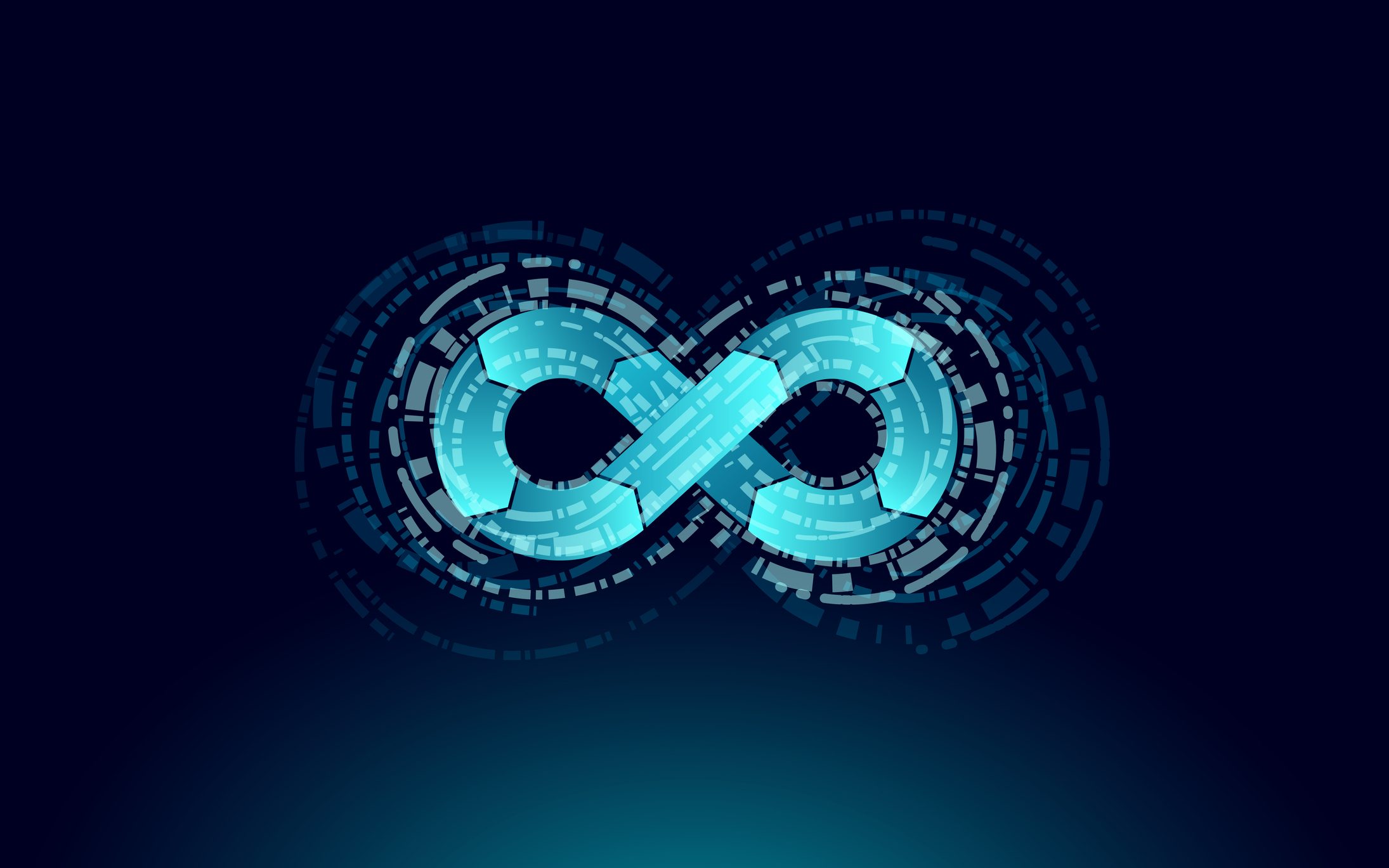 Laadukasta koodia
DevOps tarkoittaa myös automatisoitua julkaisuputkea kehittäjän työpöydältä tuotantoon. Kun tiimissä tehdään koodiin muutoksia, tehdään julkaisuputkessa aina koodikatselmointi ja staattinen analyysi sekä ajetaan yksikkötestit.
– Kehittäjän tekemät muutokset katselmoidaan aina vähintään kahden muun kehittäjän toimesta, minkä jälkeen ne viedään testiympäristöön ja ajetaan integraatiotestit. Vasta tämän jälkeen muutokset julkaistaan eteenpäin, selventää Janne.
– Ajamme samat testit kaikissa ympäristöissä. "Putki" ohjaa työtä ja koko prosessi on pitkälle automatisoitu, minkä avulla inhimilliset virheet voidaan välttää. Meillä on työkalut automaattiseen laadunvarmistukseen ja automaattitestit käytössä. Pysymme koko ajan kartalla siitä mikä toimii, ja että kaikki toimii oikein. Asiakkaan liiketoimintaosaajien aikaa ei tarvitse käyttää testaukseen, sillä automaattitestaus estää regressiot, summaa Jussi.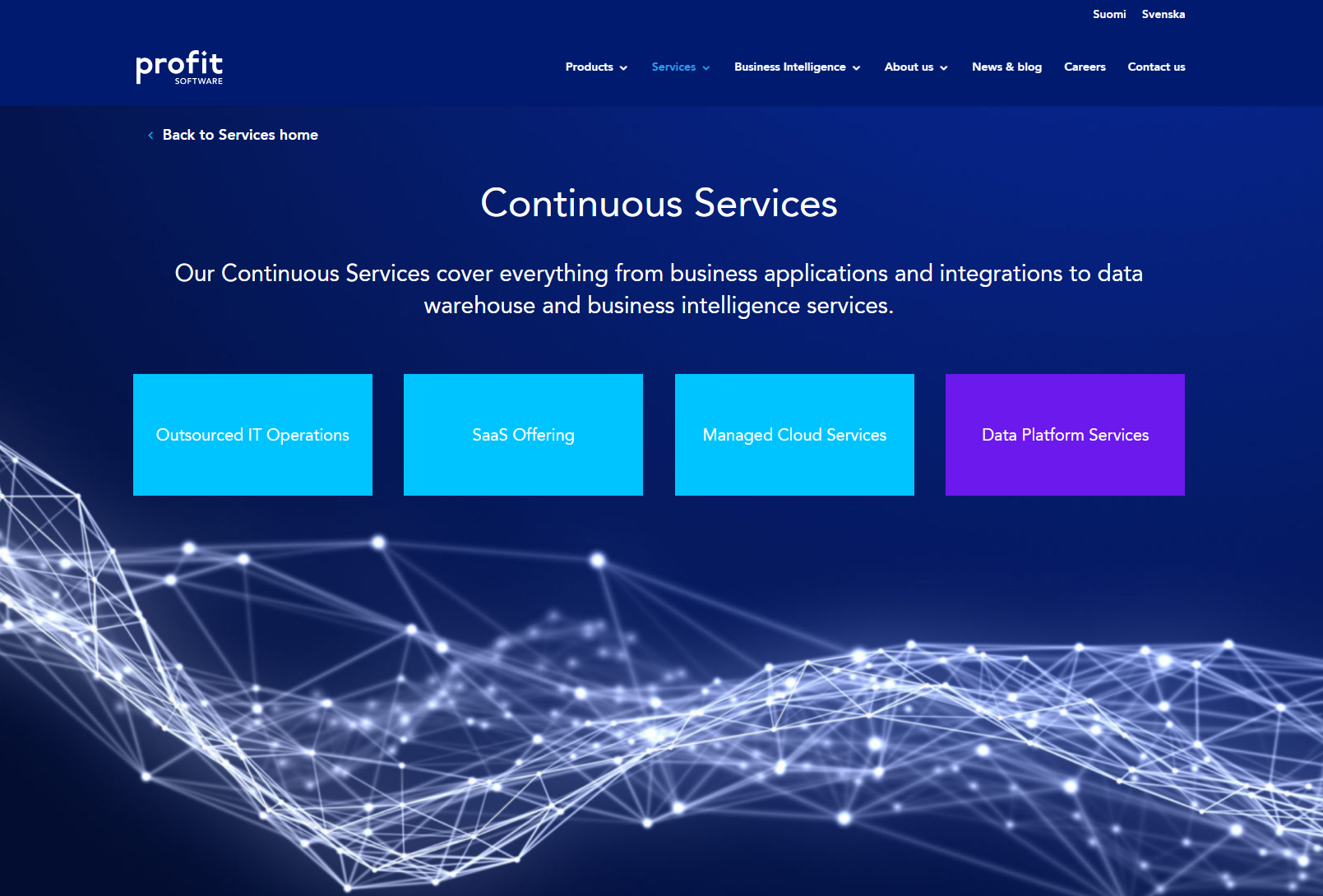 Profit Software provides its customers with Continuous Services that cover everything from business applications, integrations to data warehouse and business intelligence services. We manage over 100 critical banking, lending, wealth management and payments business applications with our team of technical and domain experts.
Whether your company's business needs include outsourced operations services, SaaS solutions, managed cloud services, or Data Platform services, working with a knowledgeable partner vendor brings efficiency and flexibility. Profit Software has extensive expertise in the financial business, and the ability to develop and maintain applications and provide solutions seamlessly, from production to development, reporting and training to end-users.
If a company wants to take advantage of the flexibility of cloud services and the competitive advantage they bring, we at Profit Software offer not only tools, but also a complete service for taking care of data and a solution to ensure service capability.
You can find Profit Software's Continuous Services now on our website under the Services menu.