Finanssialan järjestelmiä uusitaan harvoin uusimisen ilosta. Päätös tehdään useimmiten siinä vaiheessa, kun järjestelmän käyttöikä lähestyy loppuaan, teknologiat ovat vanhentuneita ja liiketoiminnan prosesseja saattaa olla vaikea uudistaa, kun käytössä olevat järjestelmät eivät tätä tue.
– Prosessien tehokkuus vaikuttaa suoraan työnteon tehokkuuteen; käsittelijöiden arvokasta työaikaa kannattaa käyttää johonkin hyödyllisempään. Jos tarkastelemme esimerkiksi antolainauksen ratkaisuamme, niin se palvelee aidosti päivittäisen työn prosesseja ja rutiineja, kertoo Financial Sector Solutions -yksikön tuotteista Evitecissä vastaava Janne Takala.
Mikä Evitec Power Lending -ratkaisu siis on? Tiivistetysti: se on antolainauksen ja vakuushallinnan elinkaarijärjestelmä, joka soveltuu parhaiten suomalaisen yritysrahoituksen tarpeisiin. Ratkaisu koostuu moduuleista, jotka kattavat rahoituksen koko elinkaaren. Näillä moduuleilla hallinnoidaan lainoja ja vakuuksia sekä luottopäätöksiä ja luottoriskilaskelmia.
Nappia painamalla reaaliajassa
Järjestelmän modernisointi tuo monia hyötyjä. Käyttöikä pitenee, integraatiot helpottuvat, työaikaa vapautuu muihin asioihin ja luonnollisesti virheet vähenevät asioiden automatisoituessa.
– Vanhojen järjestelmien osalta integraatiot ovat usein monimutkaisia. Esimerkiksi legacy-järjestelmissä on usein epästandardeja integraatiorajapintoja. Tieto saadaan kyllä liikkumaan, mutta kehittäminen on haastavaa. Ääritapauksissa rajapintojen välille tarvitaan usein erillinen väliohjelmisto, josta aiheutuu kehitys- ja ylläpitokustannuksia. Osaajia on harvassa eikä tehokkaita työvälineitä ole aina edes saatavilla. Moderneilla REST-rajapinnoilla tällaisia ongelmia ei ole, kertoo Evitec Power Lending -tuotetiimissä arkkitehtinä toimiva Jussi Kauhanen.
Janne on samaa mieltä ja jatkaa: "Usein haasteena on myös se, että järjestelmien integraatiot ovat eräajopohjaisia. Painat nappia ja näet tuloksen vasta seuraavana päivänä. Tätä päivää on se, että asiat toimivat reaaliajassa."
Isossa kuvassa järjestelmien uusimisille on muitakin syitä kuin integraatiot. Organisaatioiden tulee katsoa eteenpäin ja tehdä päätöksiä, jotka palvelevat tulevia liiketoimintatarpeita.
– Ei ole tarkoituksenmukaista, että ei voida uudistua, koska järjestelmä ei tue prosessi-innovaatioita. Kyllähän se vaikuttaa kilpailuetuun ja siihen, kuinka nopeasti pystytään toimimaan muuttuvassa markkinassa, tiivistää Janne.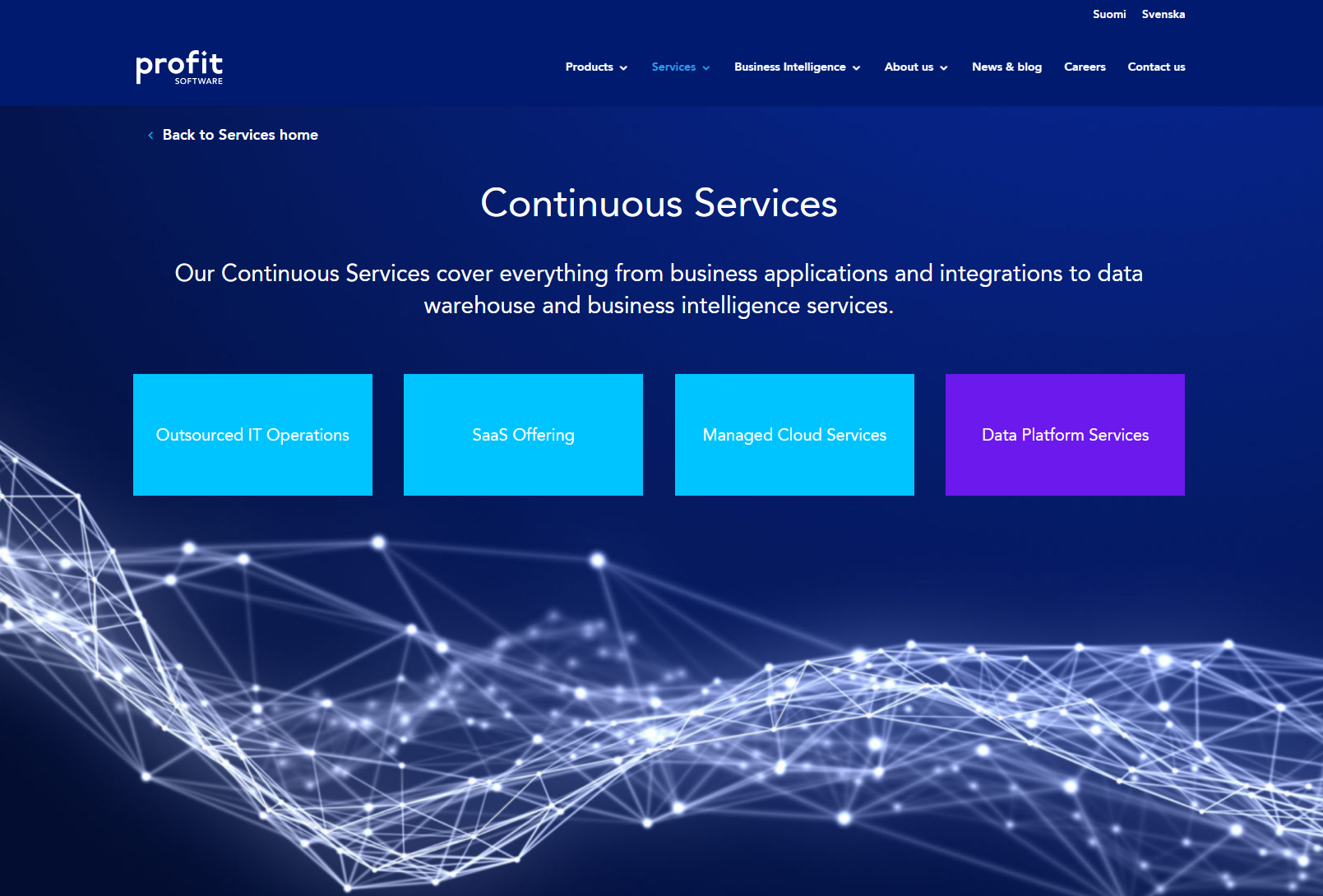 Profit Software provides its customers with Continuous Services that cover everything from business applications, integrations to data warehouse and business intelligence services. We manage over 100 critical banking, lending, wealth management and payments business applications with our team of technical and domain experts.
Whether your company's business needs include outsourced operations services, SaaS solutions, managed cloud services, or Data Platform services, working with a knowledgeable partner vendor brings efficiency and flexibility. Profit Software has extensive expertise in the financial business, and the ability to develop and maintain applications and provide solutions seamlessly, from production to development, reporting and training to end-users.
If a company wants to take advantage of the flexibility of cloud services and the competitive advantage they bring, we at Profit Software offer not only tools, but also a complete service for taking care of data and a solution to ensure service capability.
You can find Profit Software's Continuous Services now on our website under the Services menu.